The day we have all been waiting for has come.  
Over the last few months, governments have been working on a document that needs signatures of more than 130 international leaders coming to Rio from all over the world.
Keeping in line with the level of ambition associated with the summit the paper is called "The Future We Want". It is meant to commit its signatories to do their best to put the world on a more sustainable development path and ultimately a green economy.
But just how much agreement governments reach should not be the only measure of success for Rio+20. At Rio, private sector and NGOs will be working in partnership across platforms to chart a path towards a more sustainable use of resources. Our commitment to each other is just as real and as binding. I'm excited that UNICA will be part of this historic moment, and we hope that what've learnt is a good blueprint for others.
I have previously talked on this blog about the future that UNICA wants and the urgency to take action and act responsibly.
In a world of rising energy demand, decreasing traditional energy supplies and a rapidly growing population, renewable energies are essential. And because the Brazilian experience shows that they can be an engine for economic growth there is even more good reason to hear us out. Times are tough for everyone, but if you can open up market opportunities, grow GDP and satisfy consumer demand for clean fuels, there is a solid business case.
We've been preparing for Rio+20 for some time now because we see an opportunity, economic as much as environmental. We have also been actively telling our story,  and with great authority, through the "Dialogues for Sustainable Development", a UN platform for civil society participation in official discussions that has given an outstanding support to all our energy proposals. And for those of you here in Rio or those who'll be following us from far, we plan to continue showing our commitment to a green economy and engaging with our stakeholders at a :
On June 18th, UNICA talked about the potential of sustainable bio-energy at an event organised by the Global Bioenergy Partnership (GBEP).
On June 19th, UNICA will give a speech at the ICTSD Trade and Sustainable Development Symposium called "Enabling Climate Mitigation, Fostering Low-Carbon Growth".
On June 20th, UNICA will take part in the World Green Summit.
On the 21st, we will venture into the Bioeconomy debate alongside Novozymes and Electrobras.
And we will round off our busy Rio schedule on June 22nd with a presentation on the opportunities and challenges for bioenergy in Brazil at a conference organised by the CNA.
Sound busy? It's not all.
A few days ago, we unveiled our latest contribution to understanding the potential of Brazilian sugarcane. We have launched an interactive digital tool that tells the story of our industry, provides timely information about market developments, and gives an overview of prospects and future uses of sugarcane ethanol. And it's good fun to use it.  You can also download the app on your mobile devices and connect to our facebook page.
As you all see, much of the action in Rio+20 will not just take place at the negotiating table. We invite you to follow the debate and take part in the conversation.
We hope that this conference will mark the beginning of the future we all want.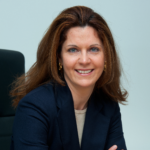 Géraldine Kutas
A seasoned professional specializing in international trade policy, Géraldine Kutas leverages over a decade of experience to strengthen UNICA's activities across the European Union, the United States and Asia. She has a deep expertise in biofuels and agricultural policies, coupled with extensive exposure to multilateral and regional trade negotiations in agriculture. Ms. Kutas is the author and co-author of several international publications on these topics.
Before joining UNICA, she was a researcher and a professor at the Groupe d'Economie Mondiale at Sciences Po(GEM), Paris, and coordinator of the European Biofuels Policy research programme (EBP). Ms. Kutas has also worked as a consultant at the Inter-American Bank of Development and for agro-business firms.
Ms. Kutas has a Ph.D. in International Economics from the Institut d'Etudes Poliques de Paris and a Master degree in Latin American Studies from Georgetown University, Washington DC.