As every year, the 2018 edition of the Forum for the Future of Agriculture (FFA) which was held in Brussels last week was another impressive event. There are very few agriculture-focused events in Brussels of the same calibre that manage to gather such an impressive number of quality speakers, key opinion leaders, and such truly global representation. The debates and conversations that the forum provided for were really inspiring.
What stood out for me this year was the broad global perspective on agriculture that was the major focus of the discussions, shedding light on agricultural challenges in both the developing as well as the developed worlds. There was a clear message of the need for greater cooperation and trade among the different agricultural regions of the world, and I was personally encouraged to hear Commission Vice-President, Frans Timmermans, extoll the virtues of freer agricultural trade and reconfirmed that there is no protection in protectionism.
We strongly support that view, and this is just the kind of thinking we all need to adopt to get the ambitious EU-Mercosur trade deal over the finish line – hopefully before the summer! The great potential of Brazilian sugarcane to provide food, low-carbon energy and bio-plastics to the benefit of the world will not be realised if it stays blocked in Brazil.
Brazilian sugarcane is a low-carbon crop whose sustainability has long been proven and that has many useful applications as we transition towards a more circular, low-carbon economy: it provides the sugar demanded by the thriving European food and drink industry; it provides 1G and 2G ethanol for low-carbon road transportation; it is the source of bio-based products that will help reducing the greenhouse gas emissions of plastics and lubricants; and it also provides for renewable electricity generation.

That the two major global household brands of Lego and Ikea recently announced that they would be turning to sugarcane as a source material for their bricks and sandwich bags is testament not just to its versatility, but to how it is destined to become a critical component of our daily lives.
At the FFA it was very encouraging to see that there is a genuine interest in the many products derived from sugarcane, and I am very optimistic that this versatile feedstock will contribute much more to global sustainability in the future. The many global challenges discussed at the FFA can only be tackled through global responses, and as Mr Timmermans said, these are not possible without freer trade in agriculture. That would allow the innovative solutions such as those provided by Brazilian sugarcane to be deployed around the world to the benefit of everyone.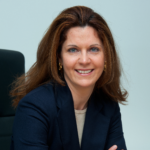 Géraldine Kutas
A seasoned professional specializing in international trade policy, Géraldine Kutas leverages over a decade of experience to strengthen UNICA's activities across the European Union, the United States and Asia. She has a deep expertise in biofuels and agricultural policies, coupled with extensive exposure to multilateral and regional trade negotiations in agriculture. Ms. Kutas is the author and co-author of several international publications on these topics.
Before joining UNICA, she was a researcher and a professor at the Groupe d'Economie Mondiale at Sciences Po(GEM), Paris, and coordinator of the European Biofuels Policy research programme (EBP). Ms. Kutas has also worked as a consultant at the Inter-American Bank of Development and for agro-business firms.
Ms. Kutas has a Ph.D. in International Economics from the Institut d'Etudes Poliques de Paris and a Master degree in Latin American Studies from Georgetown University, Washington DC.