A lot. And the Americans will be the first to tell us.
After more than three decades, the U.S. government lifted its tariff on ethanol giving the American public greater access to and an increase in environmental benefits starting in 2012. This is clearly a significant step forward, but I can't help but think that we are missing out here in Europe?
Europe has set an ambitious environmental target in its 2020 energy legislation yet it simultaneously discriminates against a commercially viable renewable fuel that enables us to reach those same targets. Does anyone else see this paradox?
I know – and EU decision makers know too – that sugarcane ethanol reduces greenhouse gas emissions by 90 percent on average compared to ordinary fossil fuels, making it the best carbon performing biofuel produced today on a commercial scale. Since free trade is, in fact, a two way street, I should highlight that in 2010, Brazil eliminated its ethanol import tariff, undeniably increasing Brazil's energy security. Today, Brazil hopes to encourage other countries around the world to do the same and develop free markets for clean, renewable fuels such as ethanol. I commend the United States for finally letting their import tariff expire – now I urge European citizens to make note of what European legislators owe them. To be fair, Europe isn't alone. Big economies like China and Japan also impose an import tariff on ethanol.
Trade barriers can deprive Europeans of access to the many benefits of sugarcane ethanol. We wholeheartedly support and guarantee sustainability in the Brazilian ethanol production. Since the approval of the Bonsucro sustainability standards by the EU in July 2011, 12 mills were successfully certified within 6 months under that scheme. That's commitment. But EU's sustainability criteria, can act as non-tariff barriers, and their potential to limit trade in biofuels is significant.
So, what I think European consumers are missing here is choice. The choice to:
…increase relative independence on fossil fuels
…choose to power cars with a clean and renewable fuel
…cope better with high fuel prices
And ultimately to play an important role in meeting ambitious environmental targets decision makers have promised them.
It is urgent to act.
I know this won't happen overnight, import tariffs create distortions and distortions take time to correct. But my hope for this year is that we start questioning their true merit!
We have a busy year ahead, let's get to work and you'll hear from me again in the coming months.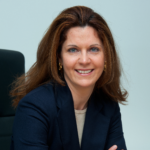 Géraldine Kutas
A seasoned professional specializing in international trade policy, Géraldine Kutas leverages over a decade of experience to strengthen UNICA's activities across the European Union, the United States and Asia. She has a deep expertise in biofuels and agricultural policies, coupled with extensive exposure to multilateral and regional trade negotiations in agriculture. Ms. Kutas is the author and co-author of several international publications on these topics.
Before joining UNICA, she was a researcher and a professor at the Groupe d'Economie Mondiale at Sciences Po(GEM), Paris, and coordinator of the European Biofuels Policy research programme (EBP). Ms. Kutas has also worked as a consultant at the Inter-American Bank of Development and for agro-business firms.
Ms. Kutas has a Ph.D. in International Economics from the Institut d'Etudes Poliques de Paris and a Master degree in Latin American Studies from Georgetown University, Washington DC.