Brazil's sugarcane ethanol producers submitted formal comments to the EPA Tuesday that expressed the industry's serious concerns about the agency's proposed standards for the 2014 Renewable Fuel Standard (RFS). UNICA's (The Brazilian Sugarcane Industry Association) comments encourage the EPA to revise the proposed extreme and unjustified reductions in statutorily-specified volume requirements for advanced biofuels. The comments urge the EPA to amend the proposal to set volume targets that are in line with Congress' and the Administration's twin goals of replacing fossil fuels with advanced biofuels and other renewable fuels, and reducing greenhouse gas (GHG) emissions from transportation fuels.
You can read UNICA's full comments here.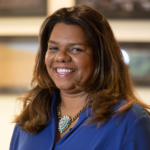 Leticia Phillips
Leticia Phillips is UNICA's Representative for North America. Ms. Phillips is an expert on Brazil-US relations and leads the Brazilian sugarcane industry's advocacy efforts before the main stakeholders in the region, including the US Congress, Federal agencies, State legislators and business and civil society.