As we come to the close of a busy year, it's worthwhile to take time to pause and reflect on everything that we've achieved this year.
For UNICA it has indeed been an interesting and eventful year, full of activity on two key dossiers that are of critical importance to the Brazilian sugarcane industry: the proposals for the next edition of the Renewable Energy Directive (REDII), and of course, the EU-Mercosur trade negotiations.
While there was a certain amount of disappointment among those who had hoped that an EU-Mercosur trade deal could be concluded by the end of the year, it has been pretty clear for weeks that achieving a deal before Christmas was going to be the exceptional rather than the expected outcome. Negotiators going into the round were aware that further significant concessions were required from both sides: Mercosur offers on dairy products, cars and machinery for the EU, and better offers on beef, ethanol and sugar from the EU for Mercosur.
Rather than focusing on what has not been achieved – a deal by the end of the year – we need to reflect on the massive progress that has been accomplished by all sides during the course of the past year. Let's not forget that these negotiations began almost two decades ago. And it is far better to wait to arrive at an equitable deal with which both sides are happy than to rush into an agreement that satisfies no-one.
So in that spirit, perhaps the timing could not be better. Both sides should welcome the break that the end-of-year festivities offer to take pause and reflect, and come back to the negotiating refreshed, revived, and ready to secure the deal that will benefit the almost 800m citizens in both blocs.
We have also achieved much regarding the proposed REDII texts. This was something of a rollercoaster ride, from the Commission's initial proposal to more than halve the cap on conventional biofuels, to the ENVI committee's proposal to cut them altogether. At each stage of the process we engaged constructively and robustly with all relevant stakeholders to correct false claims, provide accurate information and defend the critical role of first-generation biofuels in contributing to renewable energy targets. A draft general approach on REDII adopted by the Perm Reps proposes keeping the cap of 7% for first generation biofuels, and we are vindicated that the Council has accepted that proposal in its discussions on Monday 18 December.
We want to end the year on an optimistic note, and look forward the finalisation of a great EU-Mercosur deal and a fair REDII directive by the spring. In the meanwhile, it remains for me to wish you all a restful, reflective, and very happy festive period and a peaceful and prosperous 2018.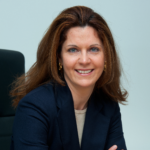 Géraldine Kutas
A seasoned professional specializing in international trade policy, Géraldine Kutas leverages over a decade of experience to strengthen UNICA's activities across the European Union, the United States and Asia. She has a deep expertise in biofuels and agricultural policies, coupled with extensive exposure to multilateral and regional trade negotiations in agriculture. Ms. Kutas is the author and co-author of several international publications on these topics.
Before joining UNICA, she was a researcher and a professor at the Groupe d'Economie Mondiale at Sciences Po(GEM), Paris, and coordinator of the European Biofuels Policy research programme (EBP). Ms. Kutas has also worked as a consultant at the Inter-American Bank of Development and for agro-business firms.
Ms. Kutas has a Ph.D. in International Economics from the Institut d'Etudes Poliques de Paris and a Master degree in Latin American Studies from Georgetown University, Washington DC.