The revision of the Renewable Energy Directive represents a tremendous opportunity to foster the further development of clean energy in the European Union (EU) for decades to come. The 2009 Directive has had a critical impact on increasing the share of renewables in the EU through binding targets, and a predictable overall framework for renewable energy implementation.
But the current proposal lacks ambition and is missing a key opportunity in helping to reach the Paris Agreement targets, especially with regards to the transportation sector, which accounts for almost a quarter of Europe's GHG emissions.
In my opinion, the critical flaws of the proposed Renewables Energy Directive as it stands are as follows:
– The proposed target for renewables in transportation increases only 0.6% – from 10% currently to, in the best case scenario, 10.6% in 2030.
– No distinction is made among conventional biofuels. Renewable fuels, which are sustainable and have superior environmental benefits, such as Brazilian sugarcane ethanol, are inappropriately lumped in with worse-performing biofuels.
– Capping ALL conventional biofuels irrespective of their individual merits is not cost-effective or results-focused.
– The technology needed to produce significant amounts of lignocellulosic biofuels at a commercial scale is not yet mature and the cost is very high – making the 3.6% target quite ambitious.
Brazilian sugarcane ethanol is classified as an advanced biofuel by the US EPA, and by California's Air Resources Board, even when ILUC is considered. These are transparent, scientific and credible benchmarks. It achieves the highest GHG emission savings of all biofuels produced at scale (over 70% relative to fossil fuels, and more than 55% when accounting for ILUC emissions). We therefore call to distinguish biofuels based on GHG emissions savings, rather than on the feedstock used. More specifically, a strict sustainability criteria based on GHG emissions savings should be applied to all biofuels that are currently capped at 7%, and only those biofuels that fail to meet these criteria thresholds should be capped at 3.8% in 2030.
A complete overhaul of climate and energy policy is needed if we are to reach the ambitious EU emission reduction targets, and sustainable conventional biofuels need to play a key role. A comprehensive EU energy policy which incentivises and promotes sustainable conventional biofuels will help the EU to meet its key climate abatement and energy security objectives in 2030 and beyond.
Second-generation ethanol will not happen without a robust and healthy first-generation ethanol market to provide business certainty for the development of more advanced renewable fuels. We should and must think long-term and continue to invest in R&D, but we must also act now and consider and implement all of the available solutions in transitioning towards low-emission mobility. Brazilian sugarcane ethanol can provide the EU with environmentally-friendly transport fuel to help decarbonise road transport.
If Europe is to achieve its ambitious targets and reduce its reliance on fossil fuels in transportation, the Commission should not pick winners. All sustainable alternatives should be promoted.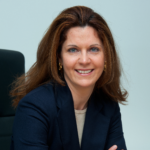 Géraldine Kutas
A seasoned professional specializing in international trade policy, Géraldine Kutas leverages over a decade of experience to strengthen UNICA's activities across the European Union, the United States and Asia. She has a deep expertise in biofuels and agricultural policies, coupled with extensive exposure to multilateral and regional trade negotiations in agriculture. Ms. Kutas is the author and co-author of several international publications on these topics.
Before joining UNICA, she was a researcher and a professor at the Groupe d'Economie Mondiale at Sciences Po(GEM), Paris, and coordinator of the European Biofuels Policy research programme (EBP). Ms. Kutas has also worked as a consultant at the Inter-American Bank of Development and for agro-business firms.
Ms. Kutas has a Ph.D. in International Economics from the Institut d'Etudes Poliques de Paris and a Master degree in Latin American Studies from Georgetown University, Washington DC.