Remember our opinion piece on Euractiv on a scenario outcome for COP21? Even better!
For once the agreement was more ambitious that originally thought. We feel privileged to have witnessed from the inside a historic moment, one which produced a deal signed by 195 countries committing to limit, in a joint effort,  global warming to 1.5°C by the end of the century.  Sure, the content of the deal could have been better, and the INDCs submitted more ambitious, but what matters most is that for the first time in history, world leaders agreed on a single direction for the future.
It was an exciting and exhausting week for us. We manned a stand in the UNFCCC area to meet people from all around the world who had one goal: to share their solutions to help reach the 'intended nationally determined contributions' of countries and mitigate global warming. As you can imagine, we were there to talk about sugarcane products and the way they can help reduce emissions, whether in transport or power generation.
The UNFCCC area was a real hive that never really slept during the climate negotiations. We met over 300 people on our stand, among which many delegates, including those from Brazil. Many of them had a go at our sugarcane quiz, took pictures on the stand, asked for more information about sugarcane ethanol's potential in the transport sector. We are very proud to plant 500 trees in Brazil as a result of our agreement with the Green Initiative!
This is our last post of the year, and we wanted to say thanks to all of you for reading our blog in 2015. We're looking forward to coming back next year; when we will sit down to discuss how we turn this agreement into reality.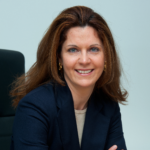 Géraldine Kutas
A seasoned professional specializing in international trade policy, Géraldine Kutas leverages over a decade of experience to strengthen UNICA's activities across the European Union, the United States and Asia. She has a deep expertise in biofuels and agricultural policies, coupled with extensive exposure to multilateral and regional trade negotiations in agriculture. Ms. Kutas is the author and co-author of several international publications on these topics.
Before joining UNICA, she was a researcher and a professor at the Groupe d'Economie Mondiale at Sciences Po(GEM), Paris, and coordinator of the European Biofuels Policy research programme (EBP). Ms. Kutas has also worked as a consultant at the Inter-American Bank of Development and for agro-business firms.
Ms. Kutas has a Ph.D. in International Economics from the Institut d'Etudes Poliques de Paris and a Master degree in Latin American Studies from Georgetown University, Washington DC.