We at UNICA use the phrase 'One plant, many solutions' and I think this describes sugarcane well. Sugarcane has played a major role in helping Brazil become virtually energy independent. But that's not all.
Thanks to tremendous advances in innovation, sugarcane is being used more and more to help solve our global energy challenges. Sugarcane is now expanding into new clean and renewable products, like bioplastics and bio-packaging.
The latest developments in this fast-evolving sector were discussed last week at the Biopackaging Summit in Brussels. I was glad for the opportunity to participate in this event where stakeholders came together to discuss the latest trends, challenges and opportunities for the biopackaging industry.
Conventional plastics are ubiquitous these days – they are part of our everyday lives, the infrastructure around us and many products we use. But the problem is that they are economically and environmentally unsustainable. The production of traditional fossil-based plastics results in significant greenhouse gas emissions. They can also produce a significant amount of pollution and waste if not recycled properly, or not recycled at all. Many see the low cost of conventional plastics as an advantage. But the price is tied to volatile oil prices. That, combined with the fact that petroleum supply is a non-renewable resource and therefore finite, make it smart to look into alternatives.
The good news is that high-tech innovation has recently unveiled that sugarcane ethanol can be used as a substitute for petroleum, and the result is a more eco-friendly product! Bioplastics have the same physical and chemical properties as regular plastic. The difference is that sugarcane-based bioplastics generate far fewer dioxide carbon emissions during production. All of this while bioplastics are 100 percent recyclable and even some are biodegradable.
Bioplastics are still a niche, but the market is growing – particularly in Brazil where the largest plant of biopolyethylene is located. A recent report by Technavio, a global research company, predicts that the global bioplastics market will grow 32 percent by 2014.
And we have already seen a number of companies begin to switch to more environmentally-friendly packaging. Perhaps Coca-Cola is the best-known example, when two years ago it launched the PlantBottle, a PET made with Brazilian sugarcane. The new packaging contains as much as 30 percent plant material without changing the color, weight or appearance. Since then, Coca-Cola has shipped more than 2.5 billion beverages worldwide using PlantBottle packaging. Other industries have followed Coca-Cola's lead in bioplastic packaging, including Heinz, Nestlé, Danone, Pantene, Johnson&Johnson and Ecover.
We are all under pressure to become more environmentally responsible. Since plastics are not going away anytime soon, I am excited sugarcane has helped in developing an environmentally-friendly alternative – bioplastics – that lowers greenhouse gas emissions in this world.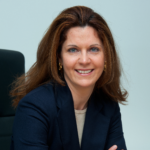 Géraldine Kutas
A seasoned professional specializing in international trade policy, Géraldine Kutas leverages over a decade of experience to strengthen UNICA's activities across the European Union, the United States and Asia. She has a deep expertise in biofuels and agricultural policies, coupled with extensive exposure to multilateral and regional trade negotiations in agriculture. Ms. Kutas is the author and co-author of several international publications on these topics.
Before joining UNICA, she was a researcher and a professor at the Groupe d'Economie Mondiale at Sciences Po(GEM), Paris, and coordinator of the European Biofuels Policy research programme (EBP). Ms. Kutas has also worked as a consultant at the Inter-American Bank of Development and for agro-business firms.
Ms. Kutas has a Ph.D. in International Economics from the Institut d'Etudes Poliques de Paris and a Master degree in Latin American Studies from Georgetown University, Washington DC.